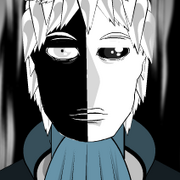 Streetin a notibley whacky stripblogger who's often serious tones in strips directly conflict with his actual behavior. He has a weird obsession with saying the word baby, and is the most known for creating SGG (StripGenerator Game) and it's many offspring.

However, Streetin has also had many other series he had worked on in the past, which received some praise. (Mainly from babies) Streetin's usual works are a mixture of scifi and fantasy which are usually very serious and often action-based. These can be considered shounen, as they are done in the style of manga.
He has also been nicknamed Chin-man by NooniePuuBunny, for when he used to stroke his chin when he made every comment. He showed so by *strokes chin* or a variation of some sort.
Due to his fame he was feautured in an issue of of the SG Insider, by BlueSockMonkey. In it he revealed 10 things that had not been previously known about him. The most famous fact was that his name in real life wasn't Victor, which was previously was regraded as fact.
He also made a second account as "Iamunknown" where he made several strips challenging other members to figure out who he was. Eventually, he managed to fool a couple of people into beleiving he was actually spunkn, just before he came out as Streetin and deleted the account.